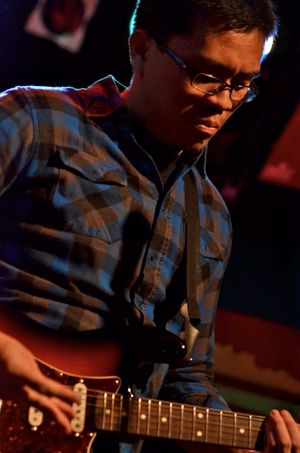 Marcus Zapanta was born and raised in Philippines. At the age of 7, he picked up his first guitar and fell in love with the instrument. Marcus became consumed with playing the guitar and was exposed to diverse musical influences such as blues, jazz, funk, ska, reggae and rock which formed his style. At a young age, he began performing in local bars and later established himself as a song writer. Marcus' music talent doesn't limit itself to the guitar, as he also plays bass and drums. 

In 2008, Marcus moved to US to pursue a career as an accountant. It didn't take long before he found himself playing music again. He joined Sovereign Sound System, a local ska reggae band based in Gaithersburg MD as a guitar player and vocalist. He later became the drummer of Solutions Reggae Band (MD) and recorded with their debut album. Marcus has also performed with national acts such as Humble Sauce, a ska-reggae band which received recognition in the music industry.

Marcus has a positive attitude towards music, and remains true to himself and his vision. He collaborates extensively, often working with artists and musicians out side his own genre. Marcus' musical journey allowed him to meet and share his experience with Kevin Basiliko of 8 Ohms band. While performing with the 8 Ohms, you will hear his soulful rhythms and aggressive blues rock solos. Marcus first appeared as a guest guitar player for the 8 Ohms and in the summer of 2012, Marcus eventually joined the band.