Nick learned from various college instructors, including Ray Moore (classical), Phil Snedecor (classical), Luis Engelke (Classical), Bill Warfield (jazz), and Alex Norris (jazz). During his senior year at Towson, he completed an Educational Psychology research project on 'The Psychology of Music: How Music isPresent in All Our Lives.'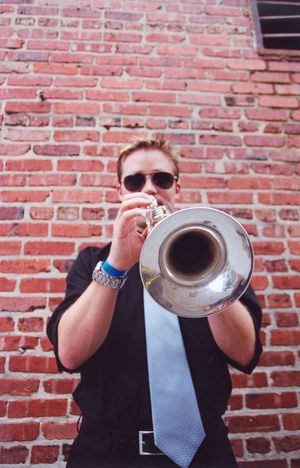 In addition, Nick began his instructional career in 1998, assisting in instruction at the Towson University Preparatory Department, and assisting as an adjudicator at the local Baltimore Lutheran School. He also began his role as private instructor, using studio space at Coffey music. In 2000, Nick received his B.S. Degree in Music Education with a concentration in Jazz Performance.
Like all great musicians, Nick takes special pleasure in his performances. Early in his musical career, a majority of his performances were related to his coursework. During his Towson years, Nick was a member of t
he Towson State University's Symphonic Band under the direction of Dana Rothlisberger. He was also a featured trumpet/flugelhorn soloist in the award-winning Towson University Jazz Ensemble, under the direction of Hank Levy, Glen
n Cashman and Ron Diehl. During his time with the Towson University Jazz Ensemble, Nick was featured on the ensemble's 1998 and 2000 CDs, and performed with the U.S. Air Force Airmen of Note, U.S. Army Jazz Ambassadors, U.S. Army Blues, U.S. Navy Jazz Commodores, Bill Warfield, Claudio Roditi, and Vaughn Nark.
In addition to his work with these groups, Nick has performed in various musical productions, including City of Angels; Jesus Christ Superstar; Annie, Bye Bye, Birdie; The Music Man; Guys and Dolls; A Chorus Line; and Hello Dolly.
Since his college years, Nick has performed regularly with popular Baltimore-area bands, including The Players Band, The 8 Ohms Band, The Jenny Boyle Band, Doctors Orders, Unprovoked Moose Attack, UNITY Reggae Band, The Junkyard Saints and K.O.E.