Rico is a soundly skilled low-brass musician from Tampa FL. He has been performing professionally since 1998 starting out as a sit in trombonist in various local bands in the Jax FL metro area.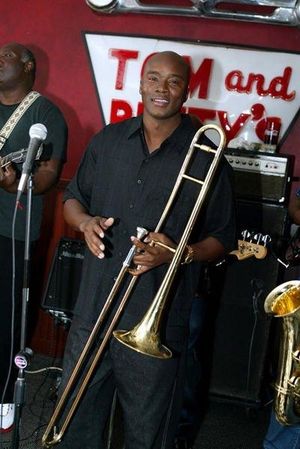 Rico's training with low brass instrumentation began in middle school and continued with theUnited States Navy Recruit Band. He chose to stay in the submarine force while serving his country but continued to excelon his craft. Now performing on Euphonium and tuba he has advanced to new levels of musicianship and entertainment value. Rico has expanded into an array of musical genres such as jazz, voice, and big band performance. Rico is also capable of performing various styles of dance, as well as, writing music and lyrics.
In 2002 Rico started playing at the Busch Gardens theme park with the Sheiks of Morocco that Rico experienced international acclaim. That band is not the newly form Distinguished Men of Brass as seen on Season 7 of the hit NBC show America's Got Talent!! They have performed all over the US and to the tune of 48 million viewers while on the show and 800 million viewers worldwide at the IIFA awards show June 2014. In 2013 they shared the stage with Sir Elton John in Fayetteville, AR at a special performance for a fortune 500 company. D' Mo Brass as they are also called made it to the top 48 of 75k initial applicants! He still performs with the fellas and continues to wow all that see them.
Today, Rico has expanded his musical repertoire to include the bass guitar. Practicing daily, he now captures the essence of the bass greats that preceded him. The 8 Ohms band is his focal point as he is one of the founding members. Now back in the DC area he can be seen with 8 Ohms performing at a spot near you!!